Bunnymund
Biographical Information
Full Name
E. Aster Bunnymund
Alias
Bunny
Other Name(s)
Age
Birthplace
Home
Australia
Occupation(s)
Easter Bunny
Guardian of Hope
Morality
Characteristics
Gender
Race
Eye Color
Hair Color
Relationships
Relative(s)
Pookas (deceased)
Affiliation(s)
Allies
Jack Frost
Jamie
North
Sandy
Tooth
Ombric
Katherine
Nightlight
Man in Moon
Pippa
Monty
Caleb
Claude
Cupcake
Minions
Walking Easter eggs
Eight foot tall sentinel eggs
Enemies
Pitch
Nightmare creatures
Powers and Abilities
Power(s)
Open holes underground
Plant manipulation
Weakness(es)
Equipment
Background Information
First Seen
Last Seen
Voice Actor(s)
Hugh Jackman
[Source]
"

A mythological Pooka who travels the galaxy, E. Aster Bunnymund specializes in making delicious chocolates—and battling evil. Part sorcerer, part ninja, and completely brilliant, Bunnymund is hard to find but well worth the search.

"

—Guardians of Childhood official website
Bunnymund is the Rise of the Guardians re-imagining of the Easter Bunny, speaking with an Australian accent and known as the Guardian of Hope. Bunnymund is a Pooka, a philosophical warrior rabbit, and used to live with the other Pookas of his village before they were wiped out, leaving him as the only survivor. He currently lives in his Warren, an oasis deep under the surface of Australia that is said to be the birthplace of spring.
Physical Appearance
He is a Pooka; a fictional rabbit species that stands between six to seven feet tall, with grayish-blue fur, flower-like imprints on both his forehead and shoulders, and bright green eyes. He wears leather bracers set with orange stones, a single-strap holster with which he carries his boomerangs, and leather wrappings on his feet. In his disbelieved state, he assumes the form of a regular rabbit, but still retains the ability to talk.
Under construction.
Personality
Bunnymund is a cool, calm Australian as dry as the Outback. A natural ranger, he is an in the dirt, rough and tumble protector of nature. He follows nature's rhythms and when it's time to spring into action he waits for the perfect moment to act. When he finally does, it's all over in a heart beat with the help of his exploding eggs and enchanted boomerangs. Bunny is completely unflappable. The only things that does get under his skin are North's constant ribbing about how Christmas is more important than Easter and his grudge on Jack Frost for causing a blizzard on Easter in '68.[1]
Bunnymund takes great pride in Easter, and its coressponding season, Spring, stating Spring and Easter represent new beginnings, new life, and the Hope that comes of it. Aside from his tough side, Bunnymund is afraid of Greyhounds and riding on sleighs.
Powers and Abilities
Besides having the abilities of a rabbit, such as possessing great agility and jump great distances, Bunnymund has the power to control flora growth and open holes to underground tunnels by tapping his foot on the ground. This allows him to travel anywhere in the world in a matter of seconds. He himself claims to be a master of Tai Chi, he masterfully wields his enchanted boomerangs, and often keeps a few explosive easter eggs on paw.
He's also a talented painter.
Relationships
Jack: "If you're not a kangaroo, then what are you?"
Bunnymund: "I'm a bunny. The Easter Bunny. People believe in me."
Jack and Bunnymund have a long rivalry with each other that presumably began in '68 when Jack caused a blizzard on Easter Sunday, resulting in Bunnymund holding a grudge against him. Bunnymund was the only one who objected to bringing Jack into the fold of the Guardians and Jack never wasted a chance to irritate or tease Bunnymund, who in turn rubbed salt into Jack's emotional wound of children not believing in him. They were competitive towards each other, seen during the Guardians collecting the teeth (Jack blasting Bunnymund with frost, Bunnymund making Jack fall into one of his holes). However, Jack helped all of the Guardians who, despite protecting children, never spent time with them, to become closer to them, particularly for Bunnymund who grew a soft spot for little Sophie, Jamie's little sister. Bunnymund was touched to learn that Jack helped Jamie continue to believe in him, and they finally became true friends as Bunnymund watched in pride and gratitude when the Guardians officialy welcomed Jack into their fold after Pitch's defeat.
Bunnymund: "Hang on, hang on... You- You mean to tell me you summoned me here, three days before Easter, because of your belly? Why! If I did this to you, three days before Christmas-"
North: "But, Bunny, Easter is not Christmas!"
Bunnymund and North respect each other as fellow Guardians, Bunnymund albeit reluctantly following North's leadership, but they're constantly at odds due to North's ribbing and he's ribbing that Christmas is better than Easter.
Even so, they're steadfast allies and friends.
Although it dosen't show Bunnymund and Tooth seem to have a fine friendship as shown that Tooth reached out to Bunnymund at Sandy's funeral and hold his hand first then North's.
Bunnymund and Sandy appear to have a fine friendship, as they both initially disbelieved North about Pitch's return. When Sandy was apparently killed by Pitch, Bunnymund held hands with Tooth and North at Sandy's memorial service. When Sandy was restored by the children, he happily welcomed him back.
"Happy Easter, ya little ankle-biter."
Bunnymund, like the rest of the Guardians, didn't actually spend time with children due to their respective responsibilities. But when Bunnymund discovered Sophie in the Warren, he was at loss on what to do, but (with a little help from Jack) soon warmed up to her, asking her if she'd like to help him paint easter eggs, letting her ride on his back as he hopped, and holding her affectionately as she fell asleep in his arms. After Pitch was defeated, Bunnymund gave her some more easter eggs to remember him by, wishing her Happy Easter.
Quotes
"Alright, nobody panic."
"Crikey!"
"You don't want to race a rabbit, mate."
"Ho-how is that not offensive? I mean what does this clown know about bringing joy to children anyway?"
"The-the what? What are you calling me? I am not a kangaroo, mate. I'm a bunny. The Easter Bunny."
"I think my tunnels are faster, mate. And safer."
"Where are the bloody seatbelts?!"
"I hope you like carrots."
[To Sophie] "Happy Easter, ya little ankle-biter."
"Must be the eggnog."
(In order to stop North from coming down a chimney, Bunny starts a fire) Ho, Ho, Ho!
(About Jamie) Sandy, knock him out. (Sandy makes a fist and Jamie looks worried) With the dreamsand, y'gumbie!
(Easter is late and children have stopped believing in Bunny) Easter is new beginnings. New life. Easter's about hope, and now, it's gone.
(to two Nightmares chasing him) G'day, mate. (destroys them with his boomerangs)
Dialogue
North: Everyone, to the sleigh! Buckle up!
Bunnymund: Where are the bloody seat belts?
North: Ha! That was just expression!
Bunnymund: Hello, mate. Been a long time. Blizzard of '68, I believe. Easter Sunday, wasn't it?
Jack: You're not still mad about that, are ya?
Bunnymund: Yes, but this is about something else.
Trivia
His signature color is green.
He doesn't like traveling on North's sleigh and is afraid of Greyhounds.
His early concept art depicted him in a green robe, but the artists felt this wasn't allowing him to move as swiftly. They pulled it down to a thin lab coat, but they still didn't feel like Bunnymund was filling in their thoughts. They eventually stripped him of all clothing, and they settled on his current design.[citation needed]
William Joyce, author of the series which the movie is based on, says of Bunnymund: "Earth was originally egg-shaped, but that was rotationally unstable, so we were heading toward the sun. The planet was going to be cooked like a hard boiled egg, so against his aesthetic judgment, with his incredible digging ability, he rounded out the Earth into a rotationally more docile sphere. In doing so, he created a number of continents, among them his favorite, Australia."[2]
He seems to dislike the Groundhog.
Bunnymund has a flock of enchanted eggs that carry out his work with great precision
Bunnymund's motto is, "There is a time for everything, and everything in its time."
According to the Rise of the Guardians App, Bunnymund protects spring and ensures the cycle of life, which is all symbolized through eggs. 
"In early designs, Bunny was professorial, wore a cloak, and was a little uptight. But then when Hugh was cast to play Bunny, the artists came up with this notion of him as a cool and tough Australian ranger."— Rise of the Guardians Producer, Christina Steinberg.
Appearances
The Guardians of Childhood
Picture books
Chapter books
Rise of the Guardians
Film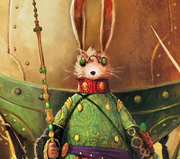 Pitch, the Nightmare King, and his Fearlings had been soundly driven back by Nicholas St. North and company in the first Guardians' adventure. But now Pitch has disappeared completely—and out of sight does NOT make for out of mind. It seems certain that he's plotting a particularly nefarious revenge, and the Guardians suspect he might have gone underground. But how can they find him there? Enter E. Aster Bunnymund, the only emissary of the fabled brotherhood of the Pookas—the league of philosophical warrior rabbits of imposing intellect and size. Highly skilled in martial arts (many of which he invented himself), Bunnymund is brilliant, logical, and a tunnel-digger extraordinaire. If the Guardians need paths near the Earth's core, he's their Pooka. He's also armed with magnificent weapons of an oval-sort, and might just be able to help in the quest for the second piece of the Moonclipper.
This second book in The Guardians series is about much more than fixing a few rotten eggs—it brings the Guardians one step closer to defeating Pitch![3]
References