Interesting Facts
Comments

76
112pages on
this wiki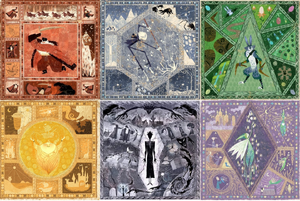 Hello! I think that the Rise of the Guardians movie will be great! So, I decided to make a page about how the movie fits into the old legends of Jack Frost, Tooth, North, Sandman, Bunnymund and Pitch. Feel free to add anything you want about the Guardians!                                                 
His signature color is Blue and signature Shape is a octagon.
Does not know his purpose and will not become a Guardian until he finds it.
Jack Frost, The Sandman, and Pitch are spirits.
He was previously going to be voiced by Leonardo di Caprio, but was actually by Chris Pine.
He is said to be 300 years old. This has been confirmed by the creators of the movie but Peter Ramsey says that he's physically 17 years old while William Joyce, creator of the series, states that Jack is 14.
He is 5' 9" tall. [citation needed]
His full name is Jackson Overland Frost.
He wants to be believed in, and feels that the other guardians treat him unfairly.
Though not a Guardian, the art book names him the Guardian of Fun.
He knows Parkour and Martial Arts!
Before Jack became Jack Frost, he died and The Man in the Moon (character) revive him. But in the novels, neither North, Tooth, Bunnymund and Sandy experience death before becoming a Guardian.
Her signature color is Pink/Violet and signtaure Shape is a Diamond.
She is The Guardian of Memories
She, Jack Frost and The Sandman are the three Guardians who posess the ability to fly on their own.
She is voiced by Isla Fisher.
Her tailfeathers were designed to look like the drapery of a dress, giving the appearance of a princess.
She can communicate with her minifairies via telepathy.
In the art book, in the Mini Fairy section, it says that "The Mini fairies are infatuated with Jack." This is explained because Tooth is confirmed to have a small crush on Jack.
She is the only female Guardian.
If you look closely, you will see that there are rings of gold feather around her wrists and ankles, resembling bracelets and anklets.
She is the only Guardian to only have one line in either of the trailers: "Wings up and take no prisoners!"
Her full name is Toothiana.
She lives in a palace in Southeast Asia.
She can split into smaller copies of herself, which allows her to actually pull off tooth fairy duties nightly.
A very important sequence of the story happens at Tooth Palace. When the Guardians arrive, they discover Pitch had taken all the memory teeth, as well as kidnapping the minifaires. Tooth, who is a very strong mother-figure, begins to lose her feathers out of worry. They also encounter Pitch, commencing a battle that Tooth is a great part of. When he escapes, the Guardians begin to plan how to get the minifaries and teeth back, but the palace begins to disentigrate around them.
She can speak every language in the world.
His signature color is Red and signature shape is a Square.
He is the Guardian of Wonder.
He is voiced by Alec Baldwin.
His full name is Nicholas St. North.
He is a cossac bandit.
He lives in a workshop at the North Pole.
His elves do not make the toys, he just lets people think that. Yetis make the toys instead.
One of his arms is tattooed "Naughty" while the other is tattooed "Nice".
He is approximately 7' 2" tall.[citation needed]
His signature color is gold/yellow and signature shape is a Circle.
He is the Guardian of Dreams.
The Sandman will appear after 8 p.m. but will not start working until after 9 p.m.
He is the only guardian that does not have a voice actor.
His full name is Sanderson Mansnoozie.
He lives on an island.
He is 3' 9" tall.[citation needed]
His rival might be Pitch, for they can both give children dreams. Sandman gives good dreams. Pitch corrupts his creations and makes them into nightmares.
His signature color is green and signature shape is a triangle.
He is the Guardian of Hope.
If you look closely, you will see that Bunnymund has spring-like imprints (the flower/grass pattern on his forehead and the same markings on his shoulders) that decorate his fur.
He is a "Pooka", a fictional rabbit species that stand between 6' to 7' feet tall.
He is voiced by Hugh Jackman.
His full name is E. Aster Bunnymund.
He may have the ability to travel through time.
He has the ability to control floral growth.
He lives in Warren, an oasis deep under the surface of Australia said to be the birthplace of spring.
He uses his tunnels to get to anywhere in the world in a matter of seconds.
His early concept art depicted him in a green robe. But the artists felt this wasn't allowing him to move as swiftly. They pulled it down to a thin lab coat, but they still didn't feel like Bunnymund was filling in their thoughts. They eventually stripped him of all clothing, and they settled on his current design.
His signature color is black and signature shape is a rectangle like a coffin.
Pitch and The Sandman are Identical spirits, but one is potentially more lethal than the other.
His full name is Kozmotis Pitchiner.
Is more commonly known by children as the Boogeyman.
He is voiced by Jude Law.
He is as old (if not older) than the man in the moon.
According to the books, General Kozmotis Pitchiner was the guard of the prison containing all the world's horrors, but was tricked into thinking that his daughter was trapped in there with them, and in his attempt to free her, he ended up releasing all the creatures he was set to guard, which possessed him, turning him into the boogeyman he is today.
Pitch is the only character (to date) to have appeared in all the books.

Other Characters:
He is voiced by Dakota Goyo.
He can see the Guardians.
His voice actor and Bunnymund's voice actor Hugh Jackman worked together on a film called "Real Steel" made by DreamWorks back in 2011, a year before "Rise of the Guardians" came out.
He has a female greyhound named Abby.
Jamie has a sister named Sophie.
He was the first child to see Jack Frost.
Jamie and Jack's sister are nearly identical to each other in looks, save for the obvious difference of gender.