"

You don't want me. You're all hard work and deadlines! I'm... snowballs and fun times.

"

—Jack, to the other Guardians
Jackson Overland "Jack" Frost is an immortal supernatural being much like the Guardians. Unlike the others, however, he is a loner, the classic rebel without a cause, sarcastic and mischievous. He has incredible control over ice and the cold. He is a spirit of games and fun times, but when at last he discovered the purpose behind his amazing powers, he became a true Guardian, representing Fun.
Physical Appearance
Jack currently has white hair, striking blue eyes, and pale skin. He has a tall stature, albeit slim. His clothing is a blue hooded sweater, frost collecting around the ring of the collar, and trousers bound with lighter material starting from the knee down to the rather tattered and frayed bottom, and is barefoot throughout the movie.
He carries around a magical staff with a G-shaped arch, resembling a shepherd's crook. It is Jack's gateway to help him unleash his powers of conjuring snow, ice, and frost.
Before Jack became immortal, he was seen wearing a brown cloak, a white woolen shirt, and a small brown open vest. He wore the same pants as seen in the present. He had warm brown hair and dark amber eyes, rather blushed cheeks and less paler skin. 
Jack is currently over 300 years old though with an appearance of a teenager.
William Joyce has stated that Jack Frost is stuck at age of 14 but on the Rise of the Guardians App, it states: "Jack Frost has been around for over 300 years, but he is forever trapped at the age of 17."
Before Jack Frost became an immortal being who possessed the power over ice and snow, Jack was once a teenage human boy who had a family of his own 300 years before the current timeline. Like his current form, Jack was mischievous, liked to have fun and play tricks on his friends and his younger sister. When Jack and his sister got themselves in trouble while they were ice skating on top of a frozen pond that was cracking, Jack made up a game of Hopscotch, and using his staff, Jack saved his sister from the cracking ice, at the cost of his own life. The Man in the Moon, seeing Jack's selfless act of heroism and sacrifice, shines his light and transforms Jack into a Winter Spirit, of which Jack rises up from the frozen pond and he is reborn as Jack Frost. When Jack Frost was reborn he lost all memory of his previous life and immediately began his adventures of fun and mischief.
The story continues with Jack causing mischief in St. Petersburg, Russia. Noticing it was a fun day, he called the wind to take him back home, to Burgess. As he arrives to Burgess, he decides to give it a snow day. While Jack is having fun, he accidentally knocks a book out of the hands of a child named Jamie with his wind. Jack finds the book interesting and asks Jamie about it, but Jack knows that he can't be seen or heard by Jamie. Just then Jamie's friends, Caleb and Claude, rushed to Jamie and tells him about them having a snow day and Jamie asked them if they were going egg hunting on Sunday.
Jack followed Jamie to his house listening to their conversation. When the boys bring the Easter Bunny in to the conversation Jack joined, saying that Bunnymund is real annoying and full of himself. When Jamie's mom comes out of the house to give Jamie his winter hat; she brings "Jack Frost" to the conversation by saying:
"Careful! You don't want Jack Frost snipping at your nose!"
Jamie: "Who's Jack Frost?"
Jamie's Mom: "No one honey, it's just a expression".
Jack takes that offensive and decides to have a little fun with Jamie, so Jack throws a magic snowball that hits Jamie in the back of his head causing a snowball fight between him and his friends. When Pippa accidentally hits Cupcake, and everyone gets afraid. Jack, wanting to continue with the fun, hits her with a snowball, changing her attitude from mad to happy in which starts a game of chancing. The ground was slippery making Jamie fall in his sled and skates to the street, causing Jack to make an ice path around the street and helps Jamie return to the park where Jamie flies so high that he goes over the status of Theddeus Burgess and gets hit by a sofa. Jamie, excited, reveals that he lost a tooth causing the conversation to changed to the Tooth Fairy. Jack tried to remind them about the fun they just had, but his beckoning turns to sadness when Jamie walks through him.
Jack is later spying on Jamie that night when he tells his family about the fun adventure he had and the new drawing he made. He also tells them about the tooth and planning on seeing the Tooth Fairy. Jack then leaves and asked the Man in the Moon what can he do to be seen by someone as he has tried everything. Just then the Sandman's dream sand arrive.
Jack touched the Dreamsand causing it to change to the shape of a dolphin. Just then a shadow passed him. Jack, curious, followed it to an ally revealing to be Bunnymund. Bunnymund mentioned they haven't seen each other since the Easter Sunday of 1968, in which Jack asked Bunny if he was still mad about it, but just then he was grabbed by two Yetis, shoved into a sack, and thrown to a magic portal transporting him to the North Pole.
At the North Pole, Jack meets up with the Guardians and they revealed that Jack was chosen by the Man in the Moon to become the next Guardian and that Pitch has returned. Jack turns down the offer as he doesn't want to be a someone who's stuck somewhere, finding ways to bribe kids. Tooth tries to explain what they do and the joy the bring kids, but Bunnymund thinks Jack doesn't know anything about bringing joy to children causing a fuss to start a rift between him and Jack.
North takes Jack away and explains to him about The Man in The Moon must have known that Jack has something special in him and North reveals his center which is Wonder. Jack, still confused, doesn't know what his center could be. Just then Bunnymund reveals there's trouble in Tooth's Palace and they have to make their way to help Tooth.
On their way there, it's revealed that Pitch has sent his Nightmare to catch all the fairies and collect the teeth of the children of the world. Jack saves Baby Tooth from one of the Nightmares before they arrive inside of the Palace to find a panicking Tooth. Pitch then confronted the Guardians and after a battle between then he escapes.
Jack, curious, asked about why Pitch took the teeth and Tooth revealed that the teeth hold the greatest child memories, the reason why she collects the teeth. She also revealed that the Guardians were all somebody before they were chosen by the Man in the Moon, even Jack. Jack, surprised, asked her about his past life and about his family to which Tooth asked if he really doesn't remember anything and that she can't help him since Pitch has his memory.
North plans to collect the teeth to keep the children believing in Tooth. North asked Jack to help them collect the teeth and in returm they would help him get his memories back and Jack agrees to help them. The Guardians go around the world collecting teeth and making a competition of it. When Tooth told them they were as fast at collecting teeth and leaving gift as her fairies, the guys remember they forgot to leave a gift and had to travel back around the world to leave the gifts.
The Guardians all gather in Jamie's room but caused an uproar that caused Jamie and his dog, Abby, to wake up and see them (except Jack). Abby starts growling at Bunnymund and Jamie tries to stop her. Jack wanting to have fun with Bunnymund, makes the alarm go off, causing Abby to attack Bunnymund and make him jump around the room. Sandy, trying to put Abby to sleep with his Dreamsand, ends up hitting everyone except Jack, Jamie and himself. Jamie flies out of bed when North lands on it and Sandy catches him. Sandman puts Jamie to sleep and then goes to fight Pitch's Nightmares that have appeared with the help of Jack.
Jack is confronted by Pitch until Sandman joined him and slammed Pitch against a few building, with Jack commenting on not getting on the Sandman bad side. Pitch pretends to be afraid of the two until he reveals his Nightmares. The other Guardians soon join in but they are still suffering the effects of the Sandman's dream sand and are half asleep. Soon Jack and Sandy are in the sky battling the Nightmares but the Sandman is surrounded and soon Pitch attacks him, turning him into more nightmare sand. Jack, seeing what happened rushed towards Pitch, who attacks him with a wave of nightmare sand. Jack used a powerful wave of ice which destroys the nightmares, but he started to fall from the sky until he was rescued by Tooth.
Back at the North Pole, the Guardians make a memorial for the Sandman. The Guardians decide to work hard for Easter so they could keep the children's belief in the Guardians. When Bunnymund transport them back to his Warren they find Jamie's sister, Sophie, has used one of North's snow globes to be transported to the Warren. Jack used his special skills to make Bunnymund more relax and to open up to fun, so he could play with Sophie. After the eggs were ready Sophie fell asleep and Jack decides to bring her home. After Jack was able to put her on her bed, Jack heard a voice calling him. The voice lead him to Pitch's lair where he found the kidnapped fairies and was confronted by the Nightmare King himself.
Pitch tempted Jack with his memories but also with his fears of not being believing in. Pitch kept Jack distracted for enough time for his Nightmares to destroy Easter. Pitch gave Jack his Tooth Box before he disappeared and Jack noted that he forgot Baby Tooth, but he also noticed he was standing in one of Bunny's tunnel and that all the eggs had all been destroyed.
Jack saw the children stop believing in Bunnymund and found the Guardians disappointed. They told him that the Nightmares attack the Warren and the eggs didn't survive the confrontation. When Tooth asked about Baby Tooth and where he get the Tooth Box, Jack couldn't answer and ended up losing the Guardian's trust in him.
Jack made his way to Antarctica so he couldn't mess up again but was confronted by Pitch who wanted to recruit him. When Jack refused, Pitch revealed he had Baby Tooth and told him he will give her back if he gave him his staff. Jack agreed but Pitch tricked him. Baby Tooth pecked Pitch making him threw her away while he broke Jack's staff after. Pitch attacked Jack with nightmare sand which slammed him against an iceberg making him fall into a valley. Jack found Baby Tooth and felt sad that he kept making mistakes.
Soon after Jack's memories called him again, making him remember that he still has his Tooth Box. Baby Tooth taught Jack how to use the Tooth Box, which revealed Jack's human past. The flashbacks showed Jack some of the fun memories he did have with his sister and also showed him the moment when he saved her from the ice. These memories made Jack realize that he always has been a Guardian and gave him the courage to fix his mistake and save the Guardians and the children of Earth from Pitch. Jack was able to fix his staff and made his way back to Pitch's lair to rescue the fairies but found out that they couldn't fly since they were only a few lights left. Jack noticed that the last light was Jamie and he made his way back to Burgess to recruit Jamie.
That night Jack rushed to Jamie's house to get him, since he's the last believer in the world, Jack finds him talking to his stuffed bunny asking him (Bunnymund) to give him a sign so he knows he's real. Jamie seems to start losing hope in the Guardians until Jack makes an egg with his ice powers in his window. Getting Jamie's attention, Jack makes a bunny and makes it come to life and jump around the room. Jamie gets excited and starts jumping in his bed until the bunny turns into snow, resulting in a snowflake to nip at his nose and for him to believe in Jack Frost. Jamie asked "Jack Frost?" which caused Jack to look at Jamie and wonder if Jamie believed it him. When Jamie revealed he can see and hear him, Jack gets excited about having his first believer. When they hear North's sleigh, both of them rush outside. Jamie reveals that he can see Jack and the other Guardians. Bunnymund thanks Jack for making Jamie keep his belief in him.
When Pitch appears, Jack goes to fight him, causing the other Guardians to lead Jamie away. Pitch being more powerful than before beats Jack and makes him fall to the alley where the others were. Pitch traps the Guardians and Jamie, Jamie tells Jack that he's scared. Hearing that, Jack gets a memory of the same thing his sister once said causing Jack to realize what his center is (Fun). Pitch approaches them but was hit by a snowball by Jack. Distracted, they escape and go to gather up Jamie's friends.
With the help from the other Guardians, Jamie's friends start to believe again. Pitch asks them who was going to protect the Guardians if the Guardians were protecting them. Jack reassured Jamie to not be scared since the Nightmares are just bad dream and Jamie volunteered to protect the Guardians causing his friends to join him. Pitch then sends a wave of nightmare sand their way but once Jamie says, "I do believe in you. I'm just not afraid of you!" Jamie was able to turn the nightmare sand back into dream sand. Which helps the Guardians get their full energy back and battle Pitch. North used his snow globes to bring his Yetis to help out while Bunnymund opened tunnels to get his Warrior Eggs to also help in the battle against the Nightmares while the Guardians confronted Pitch. Jamie gets an idea on how to revive the Sandman and told his friends about it.
As the battle with Pitch continued, the Nightmare King was corner by the Guardians but hid in the shadows and appeared behind a distracted Jack with scythe created of nightmare sand, but before he could hurt him the Sandman returns at the last second saving Jack from Pitch and uses his sand to give everyone good dreams and make more believers.
The Guardians and the children started celebrating and Jack hits Jamie with a snowball, which caused a friendly snowball fight. When Pitch woke up, he tried to make Jamie fear him again but found that Jamie was not scared of him anymore because he was able to pass through him.
Pitch, afraid, retreats to his liar which caused the Guardians to follow and confront him one last time. After Pitch was taken away by his own Nightmare creatures, the Guardian ceremony was performed again. Jack looked at Jamie which caused him to nod. Proud of himself and of Jamie, Jack says, "I will," making him an official Guardian.
Jamie: You're leaving? But what if Pitch comes back? What if we stop believing again? If I can't see you...
Jack Frost: Hey, slow down, slow down! Are you telling me that you stop believing in the moon when the sun comes out?
Jamie: No.
Jack Frost : Okay, well, do stop believing in the sun when clouds block it out?
Jamie: No.
Jack Frost: We'll always be there, Jamie. And now we'll always be here. (points to Jamie's heart) Which kinda makes you a Guardian too.
Jack makes his way toward North' sleigh but he is stopped by Jamie calling his name. Jack turned around and is surprised by Jamie who gave him a hug, which shocks Jack, but he eventually returns the hug. Jamie waves at Jack and The Guardians good bye when they leave.
Jack is welcomed by the Guardians as he makes his way to the back of sleigh where he looks at the camera saying: "My name is Jack Frost, and I'm a guardian. How do I know that? Because the moon told me so. So If the moon tells you something...Believe it." before he creates a snowflakes that flies to the screen before the movie ends.
Personality
Jack Frost is a mischievous teenage hellion who has no interest in being bound by rules or obligations, and rather instead favors spreading his winter magic for the sake of the personal amusement of himself and children. Despite these traits, Jack is also gentle and generous.
The source of Jack's anti-social behavior towards the Guardians and refusal to adhere to rules was mostly because of his frustration with the Man in the Moon never answering his questions about who he was or why he was created, and also because no human, child or adult, was able to see him for centuries for no one had believed in him. But as Jack spends time in the Guardians' company, each individual would have an effect on him that would change him from a mischief-making winter spirit to a full-fledged Guardian in his own right, as well a hero.
It was his refusal to give up in the face of overwhelming odds that enabled him to help one child, Jamie Bennett, keeps his beliefs in all of the Guardians as well as finally being able to see and believe in Jack Frost. Jack's desire to protect Jamie, as he once did his sister, helped him realize his center; Fun. 
Jack proudly accepted the duties and responsibilities as the Guardian of Fun. His purpose, is to spread the feelings of fun, joy, and happiness to bolster the faith children have in the Guardians.
Even before he officially became a Guardian, Jack displayed some pride in what he does, particularly the Snow Days he makes for children to have fun.
Powers and Abilities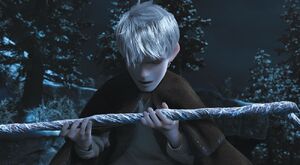 Jack is both the Guardian of Fun and the Spirit of Winter, surprisingly powerful and cunning trickster. It's his job to make children have fun, while bringing joy and fun times with Winter and snow days, thereby making them happy and bolstering their faith in the Guardians.
Winter Magic
As the Spirit of Winter, Jack commands snow, ice, frost, and later learned he can unleash energy bolts of ice, and he can easily freeze things over/solid with a mere wave of his staff. Originally, Jack channeled his Winter Magic through his staff, mistaking it to be the source of his power, when really it was just a conduit. Jack can conjure ice, snow, and frost from his mere presence, as well as freezing winds, snowballs, snowflakes, etc. Jack can even manifest images from frosted window panes, freeze water by walking on it, and conjure indoor snowfall.
Flight
Jack is able to fly by riding the wind. He flies by floating like a snowflake, and propels himself with wind to fly faster.
Magic of Fun
As the Guardian of Fun, Jack can bewitch others with feelings of fun, joy, and laughter with his snowballs or even his snowflakes. This was first seen when he hit Cupcake with a snowball, quelling her anger, and helping her have fun and become friends with Jamie and the other kids.
Freerunning
Jack is a very skilled freerunner and can quickly move across rooftops over even weave through traffic with uncanny speed and agility, as he safely directed Jamie on an epic sled-ride.
Weapons
Jack has a magic staff with which he can control the elements of winter. Originally, he thought this staff was the source of his power, when really it was just a conduit for him to channel the magic of winter that had really been inside of him, seen when he repaired it through sheer force of will after Pitch snapped it in half.
Relationships
Family
After being tossed into a ravine at the South Pole by Pitch, Baby Tooth shows Jack that he still has his Tooth Box that he took from Pitch's Lair. It shows him the memory of him and his little sister on a frozen pond, and that she was on ice that was about to crack. He saved her by making a game out of hopping off the thin ice, then sacrificing his own life to get her to a safe spot. It was shown that he loved his sister very much, shown not only with this selfless act, but because, once his memory returned, he was only happy and grateful to know that she had survived, rather than be disheartened that he had drowned.
Her last appearance was when Jamie told Jack he was scared, causing Jack to remember a similar dialogue with his sister on the ice and making him realize his center is Fun.
Her name has not been confirmed as of yet.
Friends
Baby Tooth is one of Tooth's mini fairies that follows her where ever she goes. However, unlike all the other fairies, Baby Tooth doesn't have a blue feather sticking from her forehead. Instead she has a golden feather, just like Tooth. Jack saves her from being taken prisoner by one of Pitch's nightmares. Afterwards, he instantly gives her the name "Baby Tooth" after seeing her gold feather. Just like Tooth, Jack is protective of Baby Tooth and he doesn't mind her following him around from time to time.
In Antarctica, Baby Tooth taught Jack how to use the Tooth Box. As a result, he was able to remember parts of his past and discover that he's a Guardian.
Jack: "If you're not a kangaroo, then what are you?"
Bunnymund: "I'm a bunny. The Easter Bunny. People believe in me."
Jack and Bunnymund have a long rivalry with each other that presumably began in '68 when Jack caused a blizzard on Easter Sunday, resulting in Bunny holding a grudge against him ever since. Bunnymund was the only one who objected to bringing Jack into the fold of the Guardians and Jack never wasted a chance to irritate or tease Bunnymund, who in turn rubbed salt into Jack's emotional wound of children not believing in him. They were competitive towards each other, seen during the Guardians collecting the teeth (with Jack blasting Bunnymund with frost, and Bunnymund making Jack fall into one of his holes). However, Jack helped all of the Guardians who, despite protecting children, never spent time with them, to become closer to them, particularly for Bunnymund who grew a soft spot for little Sophie, Jamie's younger sister.
Bunnymund was touched to learn that Jack helped Jamie continue to believe in him, and they finally became true friends as Bunnymund watched in pride and gratitude when the Guardians officially welcomed Jack into their fold after Pitch's defeat.
"You can see me?" - Jack Frost
Of all the children Jack had ever encountered, he would find himself drawn to one particular child who truly believed in the Guardians; a boy by the name of Jamie. Jack used his winter magic to give Jamie and his friends a Snow Day and guided Jamie as he rode his sled on an epic ride, ending with Jamie loosing a tooth. The result made Jamie excited for a chance to see the Tooth Fairy, which frustrated Jack, as he'd hoped the Snow Day and sled-ride he'd given Jamie and his friends would get them to believe in him.
During the climax of the movie, it was revealed that Jamie was the last child to believe in the Guardians. Jack had arrived just as Jamie was starting to lose faith in the Easter Bunny. He quickly frosted Jamie's window, drawing an image of an easter egg and a bunny in which he brought to life as a glowing image. The young boy then noticed the snow and realized he was being visited by Jack Frost. His belief, to Jack's joy, allowed the child to see him while Jack's desire to protect Jamie allowed him to realize his center was Fun, and together they reaffirmed the other children's belief in the Guardians, restoring Sandy and allowing them to defeat Pitch. Towards the end of the movie, Jack promised Jamie that he would always watch over him and meet him again one day, showing a strong brotherly bond between the two.
North: I hope the Yetis treated you well.
Jack: [sarcastically] Yeah, I love being shoved in a sack and tossed through a magic portal!
North: Oh, good. That was my idea!
Jack and North are friendly towards each other due to the fact they both (on different levels) represent Christmas and Winter. Although, Jack's sarcasm is sometimes lost on North. Out of all the Guardians, North shows the most faith in Jack, being very supportive of him and teaching him about what every Guardian must discover for him or herself; their center. North told Jack that his own center was bringing Wonder to the world.
This lesson, along with Jamie, eventually helped Jack realize his center was Fun. Jack respects North the most out of the Guardians and North has even shown himself to be something of a father-figure to Jack.
Jack and Sandy shared a good friendship with respect for one another, and it is implied they've been friends since before the movie's events. They fought side by side against Pitch and his Nightmares. When Sandy was apparently killed by Pitch, Jack was devastated but remained to fight the good fight to honor Sandy. Jack was overjoyed when Sandy was brought back to life by the dreams and belief of the children.
Toothiana, known as the Tooth Fairy and nicknamed as Tooth by her Guardian friends, is very sweet albeit clumsy towards Jack Frost. She and her little helpers have a rather obvious crush on Jack, such as (for a specific mini fairy) fainting, fan-screaming, and shaping out hearts (at the end of the movie). The two of them grow a strong bond over the course of the film.
Enemies
Initially, Jack and Pitch only just knew of each other, and Pitch ignored him since at the time they first met since Jack was not an official Guardian and took him as a neutral. But as Jack sided with the Guardians and fought against the Boogeyman, Pitch tried to convince Jack it wasn't his fight and insulted him since no one believed in him. He went as far as to subtly arrange for a situation to make it look as if Jack had betrayed the Guardians by giving Pitch Baby-Tooth in exchange for his memories and by making Jack not there to help protect the Warren from the Nightmare's attacks on the Easter eggs, causing the Guardians to ostracise Jack. But then Pitch saw Jack as a kindred spirit, and tried to recruit him, stating what goes together better than Cold and Darkness. Jack refused, as he wanted to be believed in, not feared, so Pitch resorted to blackmail - He demanded Jack's staff (the apparent source of Jack's power) or Pitch would kill Baby-tooth, one of the Tooth Fairy's helpers whom Jack had befriended.
Jack complied and gave Pitch his staff but Pitch wouldn't give up Baby Tooth (who in rage jabbed his thumb causing Pitch to yell and then throw her across the South Pole). Pitch then broke Jack's staff and the pushed him into an ice crevice while spitefully telling him to be alone. He would later re-face Jack, now a fully-fledged Guardian, representing Fun.
Quotes
"Darkness. That's first thing I remember. It was dark, it was cold, and I was scared. But then... then I saw the Moon. It was so big, and it was so bright. It seemed to, chase the darkness away. And when it did... I wasn't scared anymore. Why I was there and what I was meant to do, that I've never known, and a part of me wonders if I ever will."
"I've been around for a long time. My name is Jack Frost. I love being on my own. No rules. No responsibility. It's as good as it sounds."
"My name is Jack Frost. How do I know that? The Moon told me so. But that was all he ever told me. And that was a long, long time ago."
"Hey, wind! (the wind starts blowing) Take me home! (Jack flies off to Burgess on the wind)"
(To the Man in the Moon) If there's something I'm doing wrong, could you... could you just tell me what it is? Because I've tried everything, and no one ever sees me. (Jack receives no answer) You put me here! The least you can do is tell me... (almost tearfully) tell me why.
(North, Bunny and Sandy are taking Jack to Tooth's palace) I told you I'm not going with you guys. There is no way I'm climbing into some rickety, old... sleigh. (sees North's impressive sleigh) Okay. One ride, but that's it.
"How can I know who I am, until I find out who I was?"
"...Pitch was right. I make a mess of everything."
(Has just remembered how he sacrificed his life for his sister as a human; to Baby Tooth) Did you - did you see that?! (Baby Tooth shakes her head) It was - it was me! (picks her up excitedly) I had a family! I had a sister! I saved her! (laughs a little then looks up in awe at the moon; to the Man in the Moon) That's why you chose me. I'm... I'm a Guardian!
"No, no. The Kangaroo is right."
"Oh, and this whole time I thought you were. If you're not a kangaroo... What are you?"
"I'll give it a try."
"Snow day!"
"I'm in."
"But, uh, that's a greyhound. Do you know what greyhounds do to rabbits?"
"You don't want me. You're all hard work and deadlines! I'm... snowballs and fun times. I'm not a Guardian."
"Uh--ever hear of a 'snow day'? I know it's no 'hard-boiled egg', but kids like what I do."
"Slow down, would ya? I've been trying to bust in here for years. I want a good look." (Runs into a Yeti) "Whoa don't worry, never got pass the yetis. Oh, hey Phil."
"I thought the elves made the toys!"
"Wow... you've gotta be kidding me."
"Hey, oh. Anyone want to tell me why I'm here?"
"I must have done something really bad to get you four together."
"What makes you think I wanna be a guardian?"
"Hi. My name is Jack Frost, and we're gonna have a little fun."
"Is that a challenge, Cotton tail?"
"You can see me?"
"Am I on the naughty list?"
(to Sandman) "You... take the ones on the left, I'll take the ones on the right?"
"I'm not afraid of you."
"My name is Jack Frost, and I'm a guardian. How do I know that? Because the moon told me so. So If the moon tells you something...Believe it."
Trivia
The legend of Jack Frost came from Norse mythology. His other names are Father Frost, Old Man Winter, and Jokul Frosti (Icicle Frost).
He caused a blizzard in '68 on Easter Sunday, resulting in Bunnymund holding a grudge against him.
Jack has tried multiple times to break in to North's workshop, but he couldn't get past the Yetis; most likely the yeti known as Phil since Jack knows his name.
Jack was originally from early, early colonial times before he became a "Guardian."
According to the Rise of the Guardians app, Jack likes the beach - but only to have fun freezing waves.
Jack is the only Guardian to die before becoming a Guardian / Immortal. North, Bunnymund, Tooth and Sandy were chosen by the Man in the Moon but they never experienced death.
Jack is the only character who doesn't remember his past after being chosen as an immortal.
The character of Jack Frost has a striking resemblance to Nightlight, one fact being they have similar personalities, both of them used a staff as weapon and they both have white hair.
According to an interview with Isla Fisher, Leonardo Di Caprio was originally Jack's voice actor before he dropped out.[5]
Interesting to note that Jack Frost has special connection with Jamie Bennett and that Jamie resembles somewhat Jack Frost's sister. It is possible that Jamie is a descendant from Jack's little sister which might be the reason Jack felt drawn to Jamie. When Peter Ramsey, the director of ROTG, was asked about this, he answered: "Who knows…! It could be possible… One of my regrets is that we didn't have more screen time in the movie to flesh things out a bit more. Is there a bigger connection between Jamie and Jack? Yeah, that could be a definite possibility, that there's some kind of lineage connection like that. It's one of those movie mysteries."[6]
Appearances
Rise of the Guardians Wiki has
611 images
related to

Jack Frost

.
The Guardians of Childhood
Picture Books
Novels
Rise of the Guardians
Books
Comics
Films
Video Games
Little is known of how Jack is like in the books. The Sandman and the War of Dreams will mark his first official appearance.
References