Jude Law
Biographical Information
Full Name
David Jude Heyworth Law
Born
29 December 1972
Died
Nationality
British
Home
Spouse(s)
Sadie Frost (married) 1997 - 2003 (divorced)
Children
5
Status
Active (1987-present)
Occupation(s)
Actor
Background Information
Character(s) Played
Pitch Black
Link(s)
Wikipedia
IMDb
[Source]
David Jude Heyworth Law, known professionally as Jude Law, is an English actor, film producer, director and the voice of Pitch in the movie, Rise of the Guardians.
Biography
Personal Life
Law's parents live in Vaudelnay, France, where they run their own drama school and theater. His sister Natasha is an illustrator and artist, living in London. Law met actress Sadie Frost while working on the film Shopping. They married on 2 September 1997 and divorced on 29 October 2003. He has three children with Frost: son Rafferty (born 1996), daughter Iris (born 2000), and son Rudy (born 2002).
While making the film Alfie in late 2003, Law and co-star Sienna Miller began a relationship, becoming engaged on Christmas Day 2004.[82] On 8 July 2005, Law issued a public apology to Miller for having an affair with the nanny of his children.[83] Miller and Law separated in November 2006.
On 29 July 2009, it was announced that Law would become a father for the fourth time following a brief relationship with American model Samantha Burke in 2008. Burke gave birth to a daughter, Sophia, in September 2009 in New York.
In December 2009, it was reported that Law and Miller had rekindled their relationship after starring in separate shows on Broadway in late 2009. They spent Christmas 2009 in Barbados, along with three of Law's children. They announced they had split again in February 2011.
Career
He began acting with the National Youth Music Theatre in 1987, and had his first television role in 1989. After starring in films directed by Andrew Niccol, Clint Eastwood and David Cronenberg, he was nominated for the Academy Award for Best Supporting Actor in 1999 for his performance in Anthony Minghella's The Talented Mr. Ripley. In 2000 he won a Best Supporting Actor BAFTA Award for his work in the film. In 2003, he was nominated for the Academy Award for Best Actor for his performance in another Minghella film, Cold Mountain. He is also known for his role as Dr. John Watson in the 2009 film Sherlock Holmes and its 2011 sequel, Sherlock Holmes: A Game of Shadows.
In 2006, he was one of the top ten most bankable film stars in Hollywood. In 2007, he received an Honorary César and he was named a Chevalier of the Ordre des Arts et des Lettres by the French government. He was a member of the main competition jury at the 2011 Cannes Film Festival.
In Rise of the Guardians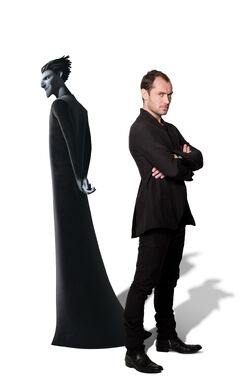 Jude Law voiced the Nightmare King, Pitch, in Rise of the Guardians. Law compared Pitch to Sandy as being similar spirits but one is more deadly than the other.
"The Guardians represent hope, joy, wonder and dreams," producer Christina Steinberg notes. "If Pitch is able to take them out, they will literally cease to exist. The attributes they represent would be gone from the world and fear would reign."
The way Pitch attempts to do that is by corrupting one of the Guardians' tools. "He has a huge amount resentment for being shoved under the beds for hundreds of years," says actor Jude Law, who gives voice to Pitch. "He figures out a way to take the Sandman's dream sand – the positive, pure golden sand that gives everyone happy dreams – and twist it into nightmares (which take the form of amorphous black stallions subject to Pitch's command), creating fear within children."[1]
Ad blocker interference detected!
Wikia is a free-to-use site that makes money from advertising. We have a modified experience for viewers using ad blockers

Wikia is not accessible if you've made further modifications. Remove the custom ad blocker rule(s) and the page will load as expected.