"

As long as one child believes,
we will be here to fight fear.

"

—Nicholas St. North
Nicholas St. North, better known as Santa Claus, is the Guardian of Wonder.
Physical Appearance
North is an immense man; tall, buff, and a little rotund. He has bright blue eyes, thick black eyebrows, and a long white beard and mustache. He customarily wears a black fur hat, a long red coat with black fur trim, and a red plaid shirt. He has he words "naughty" and "nice" are tattooed on each forearm respectively and also carries two swords strapped to his waist when away from home.
Under construction.
Personality
North is a warrior with a heart of gold. Fierce, demanding, and impulsive, everything about him is larger than life. For North, nothing is impossible as long as he believes in it.[1]
Powers and Abilities
North is a strong and powerful man. He is a master swordsman and he consider himself the best in the world. His skill in swordsmanship are so advanced that the Man in the Moon and Ombric trusted him with one of the legendary relics, Tsar Lunar XI's Sword.
He also has been trained in magic by Ombric. His skills in magic has been so great that Ombric, himself, have said that North may have surpassed him already.
North has an ability to find the wonder in everything around him which helps him in his creation of toys and inventions. He is able to combine magic with his inventions which ends with amazing results like the Djinni Robot
Relationships
Before the Elves were Elves, they were North's fellow bandits, who fell prey to the wiles of the Spirit of the Forest and were turned to stone creatures for their greed. When they were later on revived, they stayed and were transformed as Elves became North's helpers.
The Elves don't actually make North's toys, but they receive the credit for it. They just play with the toys as market testing to see if they're fun or not. If they're not doing that, they have custodial duties such as sweeping and mopping. They also do party decorations and caroling.[2]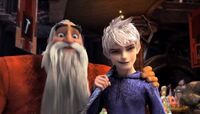 Jack: Why me?
North: You have something very special inside, and we can't do it without you.
Jack and North are friendly towards each other possibly due to the fact they both (on different levels) represent Christmas. Out of all the Guardians, North shows the most faith in Jack, teaching him about what every Guardian must discover for him or herself, their center.
Jack respects North the most out of the Guardians and North has even shown himself to be something of a father-figure to the trickster.
The Yetis are North's real toymakers, contrary to popular belief that the Elves are responsible.
Quotes
My fellow Guardians, it is our job to watch over the children of the world, and keep them safe. To bring wonder, hope, and dreams, and so I have called us all here for one reason and one reason only. The children are in danger. An enemy we have kept at bay for centuries has finally decided to strike back. We alone can stop him.
(Arguing with Bunny about Pitch returning) Look, he's up to something very bad. I feel it! (beat) In my belly!
This is going to be EPIC!
We are very busy bringing joy to children. We don't have time... (awkward pause) for children.
(Comes up a chimney in the middle of battle, and sees the fight is on another roof) Wrong roof!
"Tooth! Fingers out of mouth."
"Keep up the good work!"
"And good or bad -- naughty or nice -- we protect them."
"I obviously wouldn't have called you all here unless it was serious."
"The Boogeyman was here. At the Pole."
"How come? I tell you how come. Because now you are Guardian."
"Everyone loves the sleigh."
"Sandy? Sandy?" (slaps the dozing Sandman awake) Wake up!"
North: Everyone, to the sleigh! Buckle up!
Bunnymund: Where are the bloody seat belts?
North: Ha! That was just expression!
North: I hope the Yetis treated you well.
Jack: (sarcastically) Yeah, I love being shoved in a sack and tossed through a magic portal!
North: Oh, good. That was my idea!
Jack: Why me?
North: You have something very special inside, and we can't do it without you.
Jack: Am I on the Naughty List?
North: Naughty List? You hold the record.
Trailers and TV Spots
"We go by many names, and take many forms. We bring wonder and hope. We bring joy and dreams. We are the Sandman and the Tooth Fairy. We are the Easter Bunny and Santa. And our powers are greater than you ever imagine."
"It is our job to protect the children of the world. For as long as they believe in us, we will guard them with our lives."
"We have never faced a greater threat. And so, we will fight."
"This is going to be epic!"
North: The children are in danger. We need help. Bring me Jack Frost.
Bunnymund: Jack Frost?
North: Everyone to the sleigh!
Jack: There's no way I'm climbing into some rickety old...(sees the upgraded sleigh) Okay, one ride, but that's it.
North: I hope you like the loop-di-loops!
Bunnymund:(gulps) I hope you like carrots!
North: Music! (elves begin playing music)
Jack: No music!
Trivia
William Joyce was inspired by Sean Connery's portrayal of James Bond for North's character, saying: "There's no way you can be Santa and not have extraordinary technology at your disposal," [3] and "I always saw Sean Connery as Santa Claus. He's got to have a little of James Bond in him."[4]
North's sleigh is an automated carriage pulled by huge reindeer.[5] The artists designed it to be a cross between a snowmobile and an F-14 jet fighter.[citation needed]
North knows almost all bug languages, as well as speaks fluent hamster and leech. According to him, speaking with children's pets is how he knows which children go on the naughty or nice list. [2]
He loves the sound of some Irish accents, but sometimes has trouble understanding them and needs subtitles if he's watching a movie. (He also needs subtitles to watch the Jersey Shore kids.)[2]
If he'd never become a Guardian, North would have liked to get involved either with gardening, landscape architecture, social work, or maybe directing feature films. No directing TV, no retail, and no politics -- the latter two being too pushy in his opinion.[2]
Appearances
The Guardians of Childhood
Picture books
Chapter books
Rise of the Guardians
Film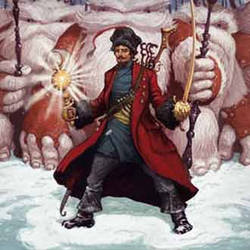 North is a tall, muscular young man with dark brown hair, possessing a mustache and a short, but pointed goatee. He often wears a black fur hat, black boots, a blue shirt, along red coat with black fur trim on his cuffs, and carries several swords strapped both to his waist and back. In the future, he will become more rotund and his hair will go white.[6]
The Djinni Robot was imagined and created by North. It is able to perform any task or duty that is of the possible world.[7]
Katherine was North's first friend, and they quickly became best friends.
Petrov is North's horse. He is the bravest of his outlaw comrades and also has the kindest heart.[7]
References