Patrick O'Keefe
is a visual story artist for film, video games, television and commericals. He is an illustrator for web and print, as well as a Muralist for community Projects.
Patrick is not credited for working on Rise of the Guardians, although he did produce a promotional poster for the film's release.
Filmography
Films
Video Games
Dead Space 3 (2013)
Dead Space 2 (2011)
Promotional Poster
Although Patrick never worked on Rise of the Guardians, he did however design a promotional poster for the film through a company he was currently working for that worked in marketing material for films. Unfortunately, his piece was never featured in the actual advertisement.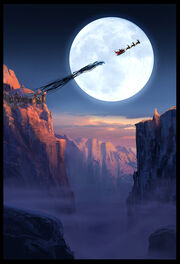 External Links
Ad blocker interference detected!
Wikia is a free-to-use site that makes money from advertising. We have a modified experience for viewers using ad blockers

Wikia is not accessible if you've made further modifications. Remove the custom ad blocker rule(s) and the page will load as expected.