The Guardians of Childhood is a series of children's picture books and novels and the inspiration for DreamWorks' Rise of the Guardians adaptation. The books are written and illustrated by author William Joyce, whose other works include George Shrinks, Santa Calls, A Day with Wilbur Robinson, and the much loved Rolie Polie Olie series, which has earned Joyce three Emmy awards.
The series currently consists of five books and will total thirteen by its completion.[1] Originally, it would have been seven chapter books and six picture books,[2] but was recently changed to seven picture books, which will detail each character's origins, and five chapter books.[3]
Description
A luminous new book series from William Joyce that redefines the icons of childhood: Santa Claus, Easter Bunny, Tooth Fairy, Sandman, Man in the Moon and many more. Published by Simon & Schuster, these books explore the mythology of childhood legends through vividly illustrated picture books and chapter books for young adults. In November of 2012, the series became an animated feature film from DreamWorks Animation: Rise of the Guardians.[4]
Picture Books
Nicholas St. North - TBA
E. Aster Bunnymund - TBA
Toothiana - TBA
Katherine[6] - TBA
Novels
Frost Chronicles
The Frost Chronicles is a series of books that explore Jack's adventure and take place after The Guardians of Childhood series.
Movie Tie-In Books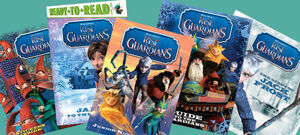 Continue the adventure with these official movie tie-in books [7]
Trivia
"The books take place a long time before the movie does," Joyce explains. "The picture books tell the story of each Guardian. The novels are a series of interlocking stories about when the Guardians start working together, and the movie is set in the present day, when they all come together to do battle against the Nightmare King," he says.[8]
While the picture books will detail the origin of each of the Guardians, William is thinking about making a picture book about Pitch Black. [9]
References